The Gospel According to: Ladies in Charge
This past Tuesday former First Lady of America, Michelle Obama, released her memoir titled Becoming. She is currently on a book tour and this has let the public into what her life was like as First Lady for two years short of a decade and what life is like for her after being the wife to one of the most powerful men in the world.
In her memoir she talks about marriage and the struggle to keeping a good balance between work and being at home. She also writes about how she quit her job to help Barack focus on his campaign run in 2008. She took a leave of absence from her job at the University of Chicago Medical Center saying,
"knowing that it would be impossible, really, to stay on and be effective."
She talks about her personal life and about her past with troubles having a baby. She went through several rounds of IVF after she kept having miscarriages. She had both Sasha and Malia though the in vitro procedure.
On very emotional, raw, and real level Michelle speaks about feeling like she "failed" and she, like many other women, had little to no knowledge of miscarriages because they are so little talked about in the public.
"I think it's the worst thing that we do to each other as women, not share the truth about our bodies and how they work,"
She also mentions that with her new free time she is enjoying as much civilian life as possible and has no plans on running for office in the future. She wrote that at the age of 54 she is "still a work in progress" and has no idea what her future holds for her. What she does know is that after giving the main stage to her husband for nearly a decade it is  now time to for her to discover what her own legacy is going to be.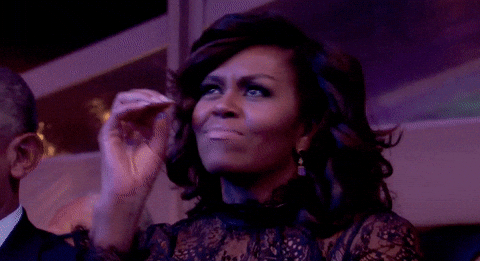 To read the full story, go pick up a copy of her memoir Becoming which is now out in stores and online!
---
North, A. (2018, November 13). Michelle Obama left her job so her husband could be president. Now it's her turn to shine. Retrieved November 13, 2018, from https://www.vox.com/2018/11/13/18091438/michelle-obama-book-marriage-becoming-barack-president
Prinzivalli, L. (2018, November 12). Michelle Obama opens up about having a miscarriage. Retrieved November 13, 2018, from https://www.allure.com/story/michelle-obama-becoming-memoir-ivf-miscarriage-quotes?verso=true