The gospel according to: the witches of Calabasas
I don't know about any of you, but it feels like it's been Halloween for 2 weeks now… I think that is because it landed this year on a Wednesday. So either you go out the weekend before or any of the days leading up to the ~spoo000oky~ holiday.
This is does mean we are getting the most premium and outlandish costumes from celebrities IG and paparazzi shots though!
It means a lot to me to see celebs who put their heart and soul into costumes because it not only shows they can let loose and have fun but it also makes them more like us.
So here are the top 5 celeb costumes that went all out: (These are in no particular order by the way)
Halsey
This year she decided to dress up as Poison Ivy, particularly the one from the 1997 Batman movie with George Clooney and Uma Thurman. She even went to the botanical gardens and did the whole routine which you can watch below:
She truly embodied the presence and confidence that Poison Ivy had. A+ work, Halsey!
2. Kylie Jenner & Stormi
Get ready for major cuteness.
This year, among many other costumes Kylie adorned, one of the fan favorites was the one she had with her daughter, Stormi Webster, this year for her first and most fabulous Halloween. As you can see they dressed up as the cutest butterflies! Ahhh that baby is so adorable (so many heart eyes)!
BONUS: Kylie and her fellow Kardashian sisters also dressed up as Victoria's Secret angels this year and the actual costumes were loan to them by Victoria's Secret! Check it out below:
3. Camila Mendes & Lili Reinhart
The two lovely ladies from Riverdale both dressed as the two main characters from the classic movie Napoleon Dynamite. Mendes, 24, pulled her hair back, drew on a mustache and wore jeans and a button-down blue shirt for her look, while Reinhart, 22, nailed her character's empty expression in a "Vote for Pedro" shirt and curly blonde hair. The girls were fully committed according to their Instagram.
4. Joe Jonas and Sophie Turner
The married couple to be dressed for two different Halloween parties this year. They first dressed as an elephant and Joe went as his fiance's infamous character on Game of Thrones, Sansa Stark.
They also went as the wonderfully scary TV couple Mr. & Mrs. Adams from The Adams Family.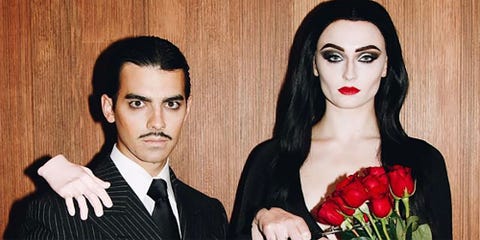 This couple really knows how to do Halloween right!
5. Harry Styles
Former 1D band member, Harry Styles, went all glam and all fab with his Elton John number.
Styles was covered from head to toe in sequins and rhinestones to pay homage to the Goodbye Yellow Brick Road singer last Saturday. I think that they make a perfect pair…maybe a duet is in the future???
No matter what costume you may or may not have worn this Halloween, always know that the best costume of all-time award definitely goes to this lovely one:
---
References:
Greenberg, I. (2018, October 31). The best celebrity halloween costumes you totally missed on Instagram. Retrieved October 31, 2018, from https://www.harpersbazaar.com/celebrity/latest/a24396921/celebrity-halloween-costumes-2018-instagrams/
Ivie, D. (2018, October 28). Behold, here are this year's best celebrity Halloween costumes. Retrieved October 31, 2018, from http://www.vulture.com/2018/10/halloween-2018-the-best-celebrity-costumes.html